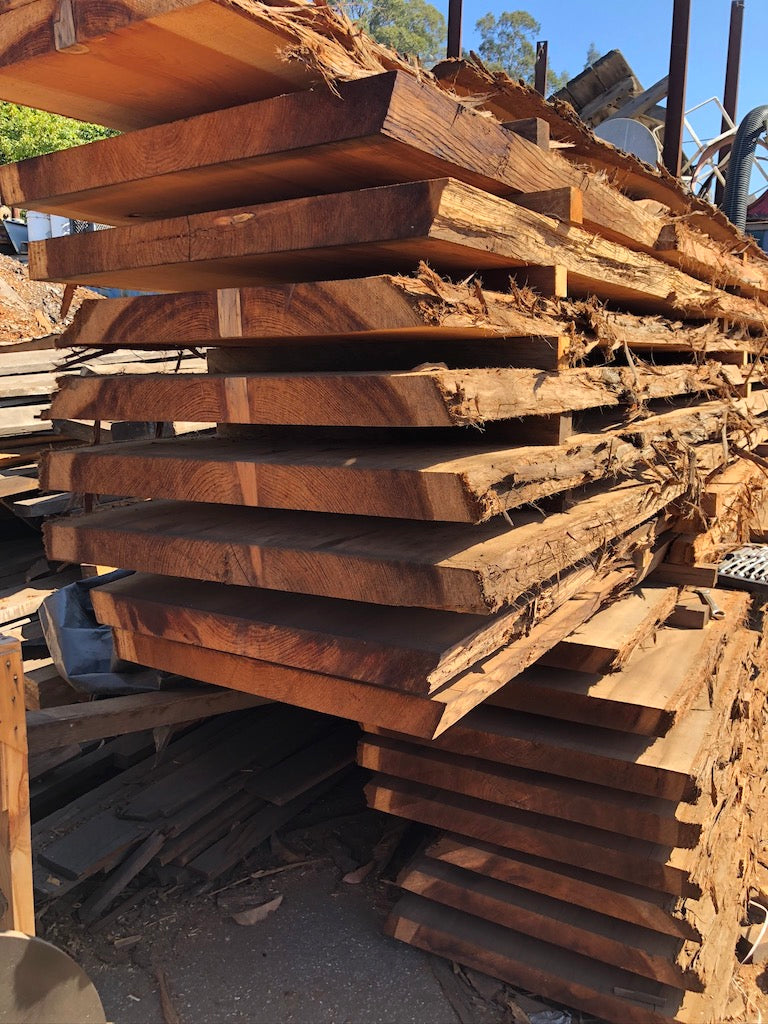 LIVE EDGE WOOD SLABS 
Timeline
DAY 1: PREPARE THE LOG AND MILL
Bright sunny day with the morning dew glistening  from the stack of logs sitting on our 5 acre parcel.  These logs have been chosen by Timber our owner specifically to be milled into live edge slabs.  Over the last 40 years he has been ethically falling trees on his own property in the Santa Cruz Mountains.  We also provide a space for Tree Services to drop their logs rather than paying to drop them at the landfill.  Logs are then milled into lumber or processed into firewood, but all of the special ones are saved.  These special reserved logs are milled into our live edge slabs.  These include:
Softwood
1) Redwood: over 30,000 board feet (old growth, second growth, burl, curly grain) 
2) Monterey Cypress: over 200,000 board feet 
3) Monterey Pine: over 200,000 board feet
4) Douglas Fir: over 30,000 board feet
Hardwood
1) Bay Laurel: over 35,000 board feet of logs and may burls
2) Madrone: small amount of large logs
3) Black Acacia: small amount of logs
4) Tan oak: small amount of logs
5) Live Oak: small amount of logs
Our inventory is always changing.  We are always milling, slabbing and kiln drying.
The logs and burls are slabbed using the Wood-Mizer 1000.  Logs can be sawed into slabs, half, quarters, or cut into manageable cants for re-sawing.  The slabs are then pressure washed and stickered to be air dried.  This lowers the moisture content and prevents cracking and warping in the wood before they enter the kiln.  
 WEEKS 2-4: KILN DRY
Slabs are then put into our kiln, The Vacupress 2000. In this process the slabs are placed between 20'6" long and 5'4" wide aluminum plates and stacked. Once the slabs enter the kiln the aluminum plates are filled with circulating hot water.  This Kiln dries wood up to 10 times faster than conventional methods and has made it possible to keep the lumber flatter and straighter than ever before. 
The kiln is then sealed and pressurized.  Over +/- 3 weeks the kiln slowly removes the moisture out of the wood bringing the moisture content to ~8-10%.  All the slabs in the kiln are ready to be unloaded and finished.
READY TO BE FINISHED
The slabs are now ready to be finished.   We send the slabs through the time saver, which sands the slab to a nice smooth finish.  After this it is your choice on how you would like your slab to look.  Our team at Pacific Slabs can complete any finishing work for you or you can take it home and finish it yourself.